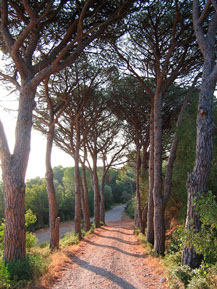 Mattes is much more than wine that we'd like among the best.
Mattes could grow sheep like in the old times, then their roasts would have to be the best, and if we were goat herders, should our cheeses be perfect. Mattes is a commitment to excellence on a tough but endearing land.
But our ambition is not limited to offering the best products , we also want Mattes to give the best of itself , the best of its soul.
Yes, Mattes, is primarily a soul drawn by the almost unchanged landscapes over two thousand years , these vines planted by men since the Romans, these trees struggling to survive in the Mediterranean sun.
It's mostly the soul all those who wanted to build , preserve, and shape this domain , this large farm for centuries.
Women , mainly , who led Mattes, liked it so much that they left in the stones and trees the trace of their passage. All have struggled and fought for Mattes, with courage and generosity.
This generosity is now in our wines that we want to share and be unique but also affordable. It's also in our efforts to make these wines for your meals and savoring, rare pleasurable moments that will remind you our great history. In one word , have the taste of tradition, local nature , and all the ones who have made it what it is today. It's what we'd like to give back to our customers that trust us.
Yes, it must be said , all this is more about a vision of man and of Eternity , that breathes " the world's most beautiful landscape in my eyes , throbbing , fraternal, the only one that knows what I know , the only one that keeps the memory of those who has passed , and who's wind at dawn after a warm day is the living breath of a creature of God "( Francois Mauriac ) .